Shopping
Serious shoppers have reason to celebrate. Explore Topeka's unique specialty shops and charming antique stores, or enjoy retail favorites located inside West Ridge Mall and sprinkled around town. Shopping for the holidays? Don't miss Visit Topeka's favorite locations for a homemade holiday gift!
Fashionista's Flair Tour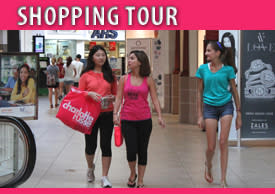 Honor your inner fashionista at The Hub, Topeka's only collective boutique, inside the Fairlawn Plaza Shopping Center. Find the latest trends, as well as one-of-a-kind clothing and accessories for adults and children. Venture downtown to find fair trade, bohemian-inspired apparel and accessories from around the globe at BOHO mojo.
Seeking new-to-you selections? enhance your wardrobe without spending a fortune at Plato's Closet, catering to the teens and twenty-somethings crowd, and Prairie Trading Company, featuring name brand new and pre-owned clothing for women and men.
Treasure Hunter's Tour
Topeka is an antique-lover's paradise, and the treasure hunting possibilities are endless. From jewelry and clothing to antique furniture, country-chic decor and timeless art, you'll find it all here. Visit the Topeka Antique Dealers' Association website for ideas about what can be found and where you can find it. The locals often mention Brickhouse Antiques, Wheatland Antique Mall and Whitehall Fine Gifts as places to go for retro finds.
Interior Designer Tour
Channel your inner interior designer and find the inspiration you need to give your home a makeover. Discover everything you need for your home at the Furniture Mall of Kansas located in West Ridge Mall. Find top-of-the-line modern furniture, art and more at Soho Interiors. An alluring mix of antique, vintage and new designer furnishings, including 20th century modern, traditional and art décor, can be found at Warehouse 414. In the North Topeka Arts District, 4 Girls' Garage beckons with an eclectic mix of antiques, home furnishings and handmade items, and you'll find a little new, little old and a lot of fun at Pinkadilly.