*PLEASE BE AWARE THAT SOME ATTRACTIONS HAVE CLOSED OR LIMITED HOURS AND AVAILABILITY DUE TO THE CURRENT RECOMMENDATIONS FROM THE CDC. PLEASE CONTACT ANY BUSINESS BEFORE ARRIVAL. TOPEKA AND SURROUNDING AREAS ARE NOW IN A REQUIRED MASK ORDER WHILE IN PUBLIC PLACES. LEARN MORE ON OUR RESOURCE PAGES>>
Events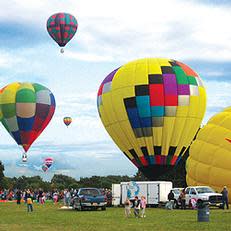 Many long-standing festivals and events honor the history, heritage and culture of the great capital city of Kansas. You're bound to find a favorite - from the Silent Film Festival for movie fans to Tulip Time for gardening aficionados or the MulvaneArt Fair, Aaron Douglas Art Fair and Stone's Folly for art enthusiasts. There is family fun at the Apple Festival at Old Prairie Town and many more. And no one is going to want to miss the annual Huff 'n Puff Hot Air Balloon Festival! The list goes on - read a list of Topeka Annual Events.
"It's the most wonderful time of the year..." Those song lyrics certainly ring true in Topeka! The holiday fun begins on Thanksgiving weekend and doesn't stop until the New Year. We've got a list of holiday events.
Discover what's happening right now at Topeka365, the calendar of all the great activities happening around Topeka. 
Fun & Festivals
Food Truck Festival
Kansas Chocolate Festival