Group Itineraries
Topeka, Kansas offers a variety of extraordinary options for your group tour. Our capital selection of specialized tours will surprise and delight your group with Topeka's Midwest charm.
Plan an epic Saturday before you get on your way. Visit the world's largest Evel Knievel Museum -- plan to spend 2 hours + -- and then head to the Kansas Statehouse, where you can climb 296 steps to the top of the dome and then go outside to see for yourself why we call Topeka #TopCity.
The city of Topeka plants hundreds of thousands of tulips and daffodils each year. The city becomes a brighter place with flowers planted by beautiful lakes, lush gardens, even downtown. Be sure to come to Topeka to smell the flowers!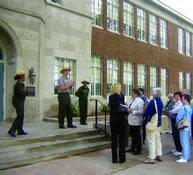 Discover Topeka's pivotal role in the fight for freedom at the Brown v. Board National Historic Site, Charles Curtis House, Great Overland Station and other historic attractions. Explore Topeka plans to preserve the stories and landmarks that make our city great, like the Kansas State Capitol or the North Topeka Arts District.
Get crafty without the headache or cleanup during a two-day adventure in creativity. Your group members can make trinkets and memories as they see for themselves why Topeka, Kansas has been called a top art city. Local artists and crafters will share some of their best tips and tricks, too. Have a special request? We're more than happy to brainstorm unique stops with you.
Family Reunions
Gather your family for an unforgettable time in Topeka. Spend the day exploring the city while gaining quality family time.
Have something in particular you are looking for? We can work with you to make your time in Topeka exactly what you want!
Other unique, fun and friendly group activities: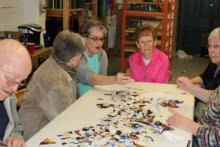 * Tour Topeka Cemetery, first organized cemetery in Kansas. 
   * Tour PT's Coffee Roasting Co. Get a tour of how coffee is made and free samples. 
   * Ride the mini train in Gage Park from April-September.
   * Explore Ensley Gardens at Lake Shawnee.
   * Experience Ghost Tours in October.
   * Enjoy the First Friday Artwalk along with art tour.
   * Enjoy making one of a kind pieces of art at Prairie Glass Studio.